PWC Library
We have a great selection of fiction, non-fiction and DVDs we're happy to loan out. Just stop by to peruse our library contents and make your selection!
Check out these recently added titles below: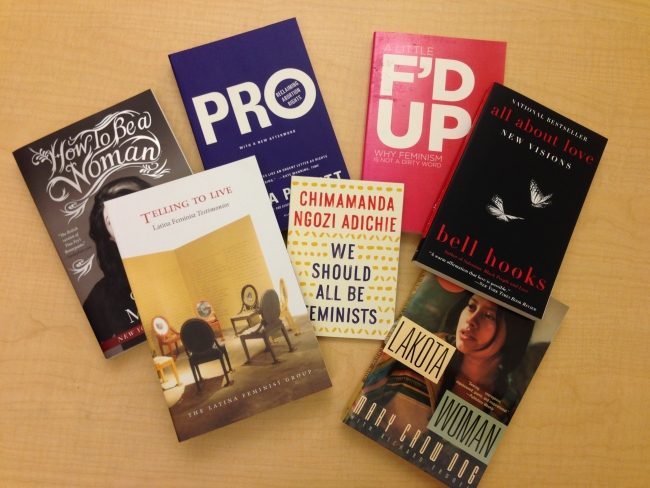 How to be a Woman
by Caitlin Moran

Though they have the vote and the Pill and haven't been burned as witches since 1727, life isn't exactly a stroll down the catwalk for modern women. They are beset by uncertainties and questions: Why are they supposed to get Brazilians? Why do bras hurt? Why the incessant talk about babies? And do men secretly hate them?

Caitlin Moran interweaves provocative observations on women's lives with laugh-out-loud funny scenes from her own, from the riot of adolescence to her development as a writer, wife, and mother. With rapier wit, Moran slices right to the truth—whether it's about the workplace, strip clubs, love, fat, abortion, popular entertainment, or children—to jump-start a new conversation about feminism. With humor, insight, and verve, How To Be a Woman lays bare the reasons why female rights and empowerment are essential issues not only for women today but also for society itself.
Telling to Live: Latina Feminist Testimonios
by The Latina Feminist Group

Telling to Live embodies the vision that compelled Latina feminists to engage their differences and find common ground. Its contributors reflect varied class, religious, ethnic, racial, linguistic, sexual, and national backgrounds. Yet in one way or another they are all professional producers of testimonios—or life stories—whether as poets, oral historians, literary scholars, ethnographers, or psychologists. Through coalitional politics, these women have forged feminist political stances about generating knowledge through experience. Reclaiming testimonio as a tool for understanding the complexities of Latina identity, they compare how each made the journey to become credentialed creative thinkers and writers. Telling to Live unleashes the clarifying power of sharing these stories.

The complex and rich tapestry of narratives that comprises this book introduces us to an intergenerational group of Latina women who negotiate their place in U.S. society at the cusp of the twenty-first century. These are the stories of women who struggled to reach the echelons of higher education, often against great odds, and constructed relationships of sustenance and creativity along the way. The stories, poetry, memoirs, and reflections of this diverse group of Puerto Rican, Chicana, Native American, Mexican, Cuban, Dominican, Sephardic, mixed-heritage, and Central American women provide new perspectives on feminist theorizing, perspectives located in the borderlands of Latino cultures.
Pro: Reclaiming Abortion Rights
by Katha Pollitt

An "important, revelatory new book" (Elle) that is a powerful argument for abortion as a moral right and force for social good

Forty years after the landmark Roe v. Wade ruling, "abortion" is still a word that is said with outright hostility or vague discomfort by many, this despite the fact that one in three American women will have terminated at least one pregnancy by the time they reach menopause. Even those who support a woman's right to terminate her pregnancy often qualify their support by saying abortion is a "bad thing," an "agonizing decision," thereby placing the medical procedure on a pedestal so remote and radioactive that it takes it out of the world of the everyday, turning an act that is often necessary, and often welcomed, into something shameful and secretive.

Meanwhile with each passing day the rights upheld by the Supreme Court are being systematically eroded by state laws designed to end abortion outright. In this controversial and necessary book, Katha Pollitt reframes abortion as a common part of a woman's reproductive life, one that should be accepted as a moral right with positive social implications. In clear, concise arguments, Pollitt takes on the personhood argument, reaffirms the priority of a woman's life and health, and discusses why terminating a pregnancy can be a force for good for women, families, and society. By whole-heartedly defending abortion rights, Pollitt argues, we reclaim the lives and the rights of women and mothers.
We Should All Be Feminists
by Chimamanda Ngozi Adichie

In this personal, eloquently-argued essay—adapted from the much-admired TEDx talk of the same name—Chimamanda Ngozi Adichie offers readers a unique definition of feminism for the twenty-first century. Drawing extensively on her own experiences and her deep understanding of the often masked realities of sexual politics, here is one remarkable author's exploration of what it means to be a woman now—and an of-the-moment rallying cry for why we should all be feminists.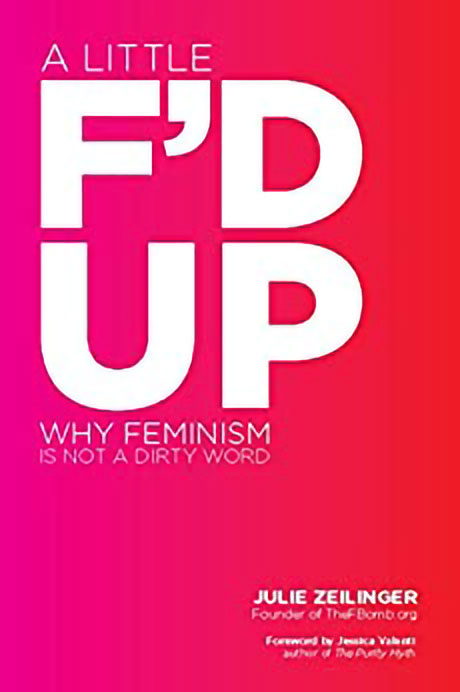 A Little F'd Up: Why Feminism Is Not a Dirty Word
by Julie Zeilinger

FBomb blog creator Julie Zeilinger debunks these (and other) myths about modern youth in A Little F'd Up, the first book about feminism for young women in their teens and twenties to actually be written by one of their peers. In this accessible handbook, Zeilinger takes a critical, honest, and humorous look at where young feminists are as a generation, and where they're going—and she does so from the perspective of someone who's in the trenches right alongside her readers.

Fun, funny, and engaging, A Little F'd Up is a must-read for the growing number of intelligent, informed young women out there who are ready to start finding their voice—and changing the world.
All About Love: New Visions
by bell hooks

"The word 'love' is most often defined as a noun, yet we would all love better if we used it as a verb," writes bell hooks as she comes out fighting and on fire in All About Love. Here, at her most provocative and intensely personal, renowned scholar, cultural critic and feminist bell hooks offers a proactive new ethic for a society bereft with lovelessness--not the lack of romance, but the lack of care, compassion, and unity. People are divided, she declares, by society's failure to provide a model for learning to love.

As bell hooks uses her incisive mind to explore the question "What is love?" her answers strike at both the mind and heart. Razing the cultural paradigm that the ideal love is infused with sex and desire, she provides a new path to love that is sacred, redemptive, and healing for individuals and for a nation. The Utne Reader declared bell hooks one of the "100 Visionaries Who Can Change Your Life." All About Love is a powerful, timely affirmation of just how profoundly her revelations can change hearts and minds for the better.
Lakota Woman
by Mary Crow Dog

Mary Brave Bird grew up fatherless in a one-room cabin, without running water or electricity, on the Rosebud Indian Reservation in South Dakota. Rebelling against the aimless drinking, punishing missionary school, narrow strictures for women, and violence and hopeless of reservation life, she joined the new movement of tribal pride sweeping Native American communities in the sixties and seventies. Mary eventually married Leonard Crow Dog, the American Indian Movement's chief medicine man, who revived the sacred but outlawed Ghost Dance.

Originally published in 1990, Lakota Woman was a national best seller and winner of the American Book Award. It is a unique document, unparalleled in American Indian literature, a story of death, of determination against all odds, of the cruelties perpetuated against American Indians, and of the Native American struggle for rights. Working with Richard Erdoes, one of the twentieth century's leading writers on Native American affairs, Brave Bird recounts her difficult upbringing and the path of her fascinating life.