The Penn Women's Center occupies three-quarters of a three-story house tucked off Locust Walk, with a front garden dotted with clumps of hellebores and daffodils during the spring. It has a full kitchen, a barbeque in back, and rooms that can be reserved by anyone on campus, with first preference going to student groups. 
Founded in 1973, the Center works with students, staff, and faculty to promote gender justice and support personal and professional development. It's a place where advocacy, equality, and wellness come together, says Elisa Foster, the director. It is a warm and caring house, filled with warm and caring people with interests ranging from sustainability to anti-violence to sex positivity, she says.
Although recently appointed director, Foster has worked for the Center for more than six years and has almost 20 years of experience working at the intersection of racial justice and gender equity. This was the first job that felt like home, she says. When her young son visits, he calls it "the work house." 
"A lot of the things that I'm passionate about are part of the reason why I do this work. I'm a mom. I have a 5-year-old. I have one coming in a few weeks," Foster says. "When I started working here at the Women's Center, I was the main person downstairs using our lactation room. So, I got a first-hand experience of what it means to support parents on our campus. And I think that made me an even better advocate for a lot of the folks that we work with and a lot of the people that come to the Center needing support, who are caretakers or who are nursing or are new parents," she says.
Foster is also a breast cancer survivor. "That's how I spent COVID, in chemo." Going through that experience made her even more passionate about reproductive justice and health care for women, she says. 
"When we talk about wellness and balancing our lives and academics and jobs, these are all things that I've always felt really passionately about because they've always been things I've had to balance," Foster says.
"I think Elisa is one of the primary reasons why the Women's Center has such a welcoming environment," says Hannah Goldberg, a musicology and English major from Kansas City, Kansas. Goldberg, who graduated in December, works full-time for the Center supporting student initiatives and heading its wellness and sustainability programs. 
Goldberg describes Foster as a compassionate leader and exceptionally approachable. "Everyone at Penn is running around," Goldberg says, "but she's so present with everyone she meets."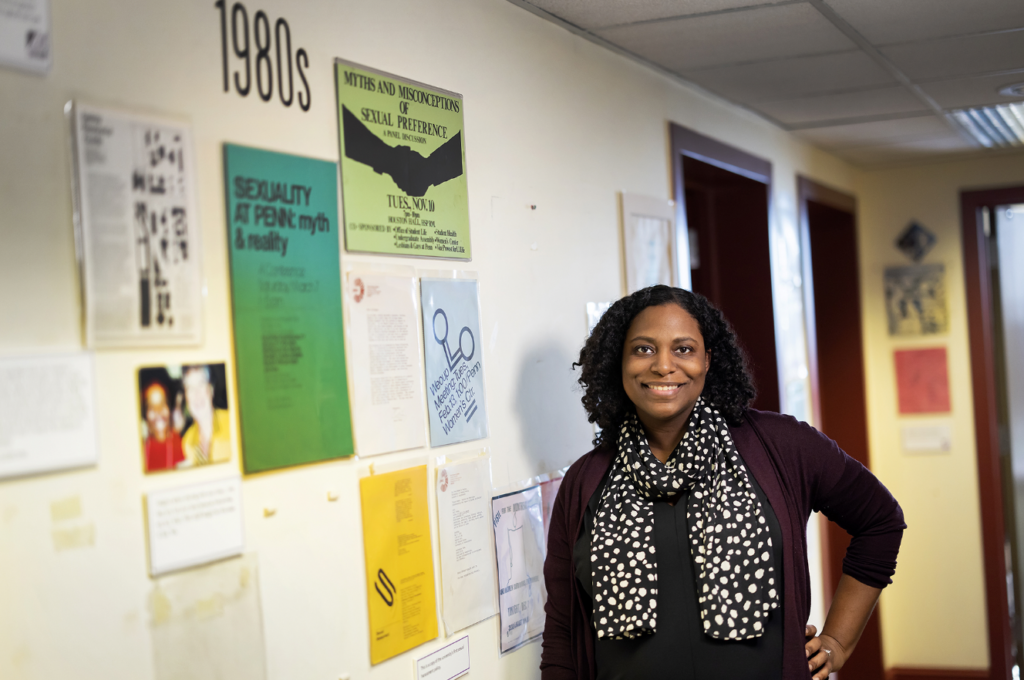 For three hours on a sunny March afternoon, the Penn Women's Center ebbs and flows with students looking for a place to study, a group of women discussing Gender Equity Week with flyers and stickers and an Instagram rollout strategy, and some 15 high school students here for a reading group. There are snacks. There are gel rollerball pens. There is loose-leaf tea. But as warm and nurturing as the Center is, it's also a serious place to discuss serious issues. 
The upstairs hall of the Center serves as an ad hoc museum, with flyers and posters from almost 50 years of history. Founded in 1973 as an anti-violence initiative, violence prevention is still a big piece of the Center's work.
"We're a confidential resource," Foster says. That means that students, staff, or faculty can come to the Women's Center, talk about what's bothering them, and get some help. "We do what we call crisis options counseling, which means they come in with whatever their concern is—and that can range from sexual violence to discrimination in the classroom to a conflict they have with their roommate—and we give them we give them all the options and resources that they have here on campus and off campus," she says.  
The center works closely with Penn Violence Prevention and also hosts a pre-orientation program with Penn Association for Gender Equity. This allows people to come in and learn about violence prevention in a small, safe setting, which can later be shared peer to peer, Foster says.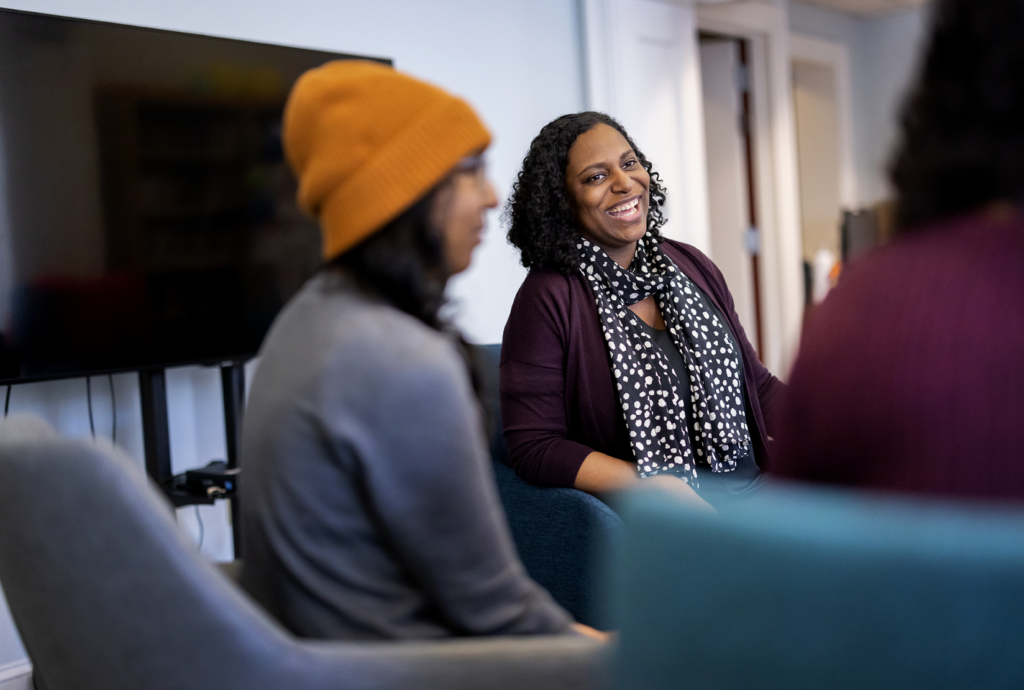 Women's Center staff also serve as mentors, advising student organizations, as well as helping them logistically and financially, says Hitomi Yoshida, the Center's coordinator. "We encourage students to voice their ideas, so they have more opportunity to practice their activism and engagement on campus." 
This often means collaborating with the cultural resource centers or with community groups on projects that might advocate against anti-Black violence or facilitate access to menstrual care. The staff supports the issues the students take on and the nature of this work evolves as the national landscape evolves, Foster says. 
Although Foster is the director, she says she leads without pushing. She creates space for everyone to talk and later comes in with suggestions or encouragement. "That collective framework has been built into the Center," Foster says. "Historically, we've always felt that everyone's voice was really important."
As it moves toward its 50th anniversary this fall, the Center has become even more gender inclusive. "The name is Women's Center, but all are welcome," Yoshida says. "We are a welcoming space to build community around gender justice."
People of all genders have played a role in anti-violence initiatives like Take Back the Night, Foster says. In partnership with Penn Violence Prevention, the Center advises and mentors the student organization Abuse & Sexual Assault Prevention, which plans and sponsors the annual Take Back the Night rally. 
It is an event where the campus comes together to protest sexual violence and rally to support survivors, which is reflective of the foundation of the Penn Women's Center, Foster says. "Fifty years after the Women's Center was created, we've made tremendous strides in offering resources to protect our community, but we still have a long way to go to eradicate interpersonal violence and establish and gender equity. This continues to be at the core of our work."