Director Elisa Foster leads the Penn Women's Center as it approaches its 50th anniversary
The Penn Women's Center occupies three-quarters of a three-story house tucked off Locust Walk, with a front garden dotted with clumps of hellebores and daffodils during the spring. It has a full kitchen, a barbeque in back, and rooms that can be reserved by anyone on campus, with first preference going to student groups. 
Founded in 1973, the Center works with students, staff, and faculty to promote gender justice and support personal and professional development. It's a place where advocacy, equality, and wellness come together, says Elisa Foster, the director. It is a warm and caring house, filled with warm and caring people with interests ranging from sustainability to anti-violence to sex positivity, she says.
Although recently appointed director, Foster has worked for the Center for more than six years and has almost 20 years of experience working at the intersection of racial justice and gender equity. This was the first job that felt like home, she says. When her young son visits, he calls it "the work house." 
"A lot of the things that I'm passionate about are part of the reason why I do this work. I'm a mom. I have a 5-year-old. I have one coming in a few weeks," Foster says. "When I started working here at the Women's Center, I was the main person downstairs using our lactation room. So, I got a first-hand experience of what it means to support parents on our campus. And I think that made me an even better advocate for a lot of the folks that we work with and a lot of the people that come to the Center needing support, who are caretakers or who are nursing or are new parents," she says.
Foster is also a breast cancer survivor. "That's how I spent COVID, in chemo." Going through that experience made her even more passionate about reproductive justice and health care for women, she says. 
"When we talk about wellness and balancing our lives and academics and jobs, these are all things that I've always felt really passionately about because they've always been things I've had to balance," Foster says.
"I think Elisa is one of the primary reasons why the Women's Center has such a welcoming environment," says Hannah Goldberg, a musicology and English major from Kansas City, Kansas. Goldberg, who graduated in December, works full-time for the Center supporting student initiatives and heading its wellness and sustainability programs. 
Goldberg describes Foster as a compassionate leader and exceptionally approachable. "Everyone at Penn is running around," Goldberg says, "but she's so present with everyone she meets."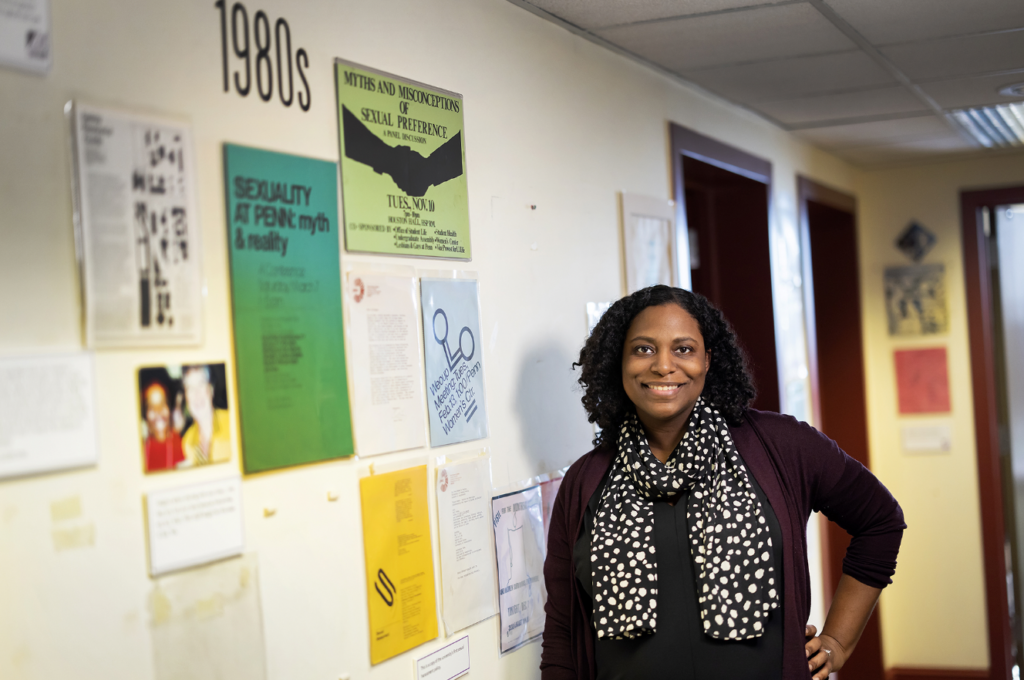 For three hours on a sunny March afternoon, the Penn Women's Center ebbs and flows with students looking for a place to study, a group of women discussing Gender Equity Week with flyers and stickers and an Instagram rollout strategy, and some 15 high school students here for a reading group. There are snacks. There are gel rollerball pens. There is loose-leaf tea. But as warm and nurturing as the Center is, it's also a serious place to discuss serious issues. 
The upstairs hall of the Center serves as an ad hoc museum, with flyers and posters from almost 50 years of history. Founded in 1973 as an anti-violence initiative, violence prevention is still a big piece of the Center's work.
"We're a confidential resource," Foster says. That means that students, staff, or faculty can come to the Women's Center, talk about what's bothering them, and get some help. "We do what we call crisis options counseling, which means they come in with whatever their concern is—and that can range from sexual violence to discrimination in the classroom to a conflict they have with their roommate—and we give them we give them all the options and resources that they have here on campus and off campus," she says.  
The center works closely with Penn Violence Prevention and also hosts a pre-orientation program with Penn Association for Gender Equity. This allows people to come in and learn about violence prevention in a small, safe setting, which can later be shared peer to peer, Foster says.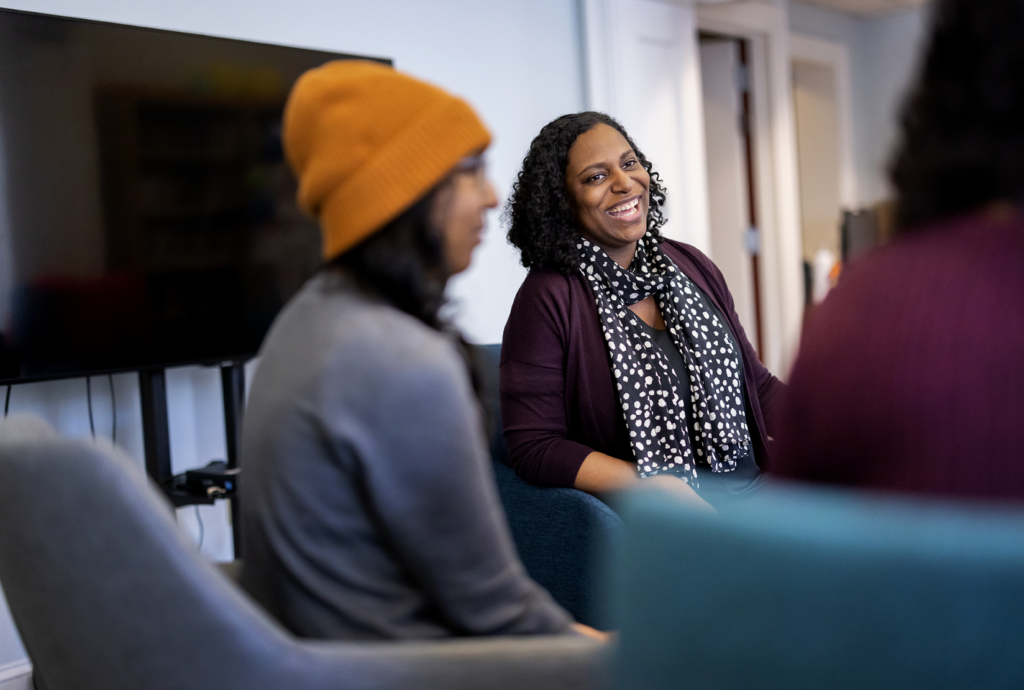 Women's Center staff also serve as mentors, advising student organizations, as well as helping them logistically and financially, says Hitomi Yoshida, the Center's coordinator. "We encourage students to voice their ideas, so they have more opportunity to practice their activism and engagement on campus." 
This often means collaborating with the cultural resource centers or with community groups on projects that might advocate against anti-Black violence or facilitate access to menstrual care. The staff supports the issues the students take on and the nature of this work evolves as the national landscape evolves, Foster says. 
Although Foster is the director, she says she leads without pushing. She creates space for everyone to talk and later comes in with suggestions or encouragement. "That collective framework has been built into the Center," Foster says. "Historically, we've always felt that everyone's voice was really important."
As it moves toward its 50th anniversary this fall, the Center has become even more gender inclusive. "The name is Women's Center, but all are welcome," Yoshida says. "We are a welcoming space to build community around gender justice."
People of all genders have played a role in anti-violence initiatives like Take Back the Night, Foster says. In partnership with Penn Violence Prevention, the Center advises and mentors the student organization Abuse & Sexual Assault Prevention, which plans and sponsors the annual Take Back the Night rally. 
It is an event where the campus comes together to protest sexual violence and rally to support survivors, which is reflective of the foundation of the Penn Women's Center, Foster says. "Fifty years after the Women's Center was created, we've made tremendous strides in offering resources to protect our community, but we still have a long way to go to eradicate interpersonal violence and establish and gender equity. This continues to be at the core of our work."
Q&A With Elisa Foster, New Director Of Penn Women's Center
Congratulations on your promotion to Director of Penn Women's Center. What does it mean to be the new Director of Penn Women's Center (PWC)?
It means so much. I've been working at the Women's Center for almost six years. With the relationships that I've developed with students and colleagues, it means a lot that I can lead Penn Women's Center into the future as we celebrate our 50th anniversary. I want to take the relationships and important memories that I've made during the last six years and amplify them to the next level. 
Tell me a little bit about your background and how you got to Penn.
I started out working in the nonprofit industry doing grant writing and strategic planning for organizations in Philly. I was a consultant working with a few organizations locally. Then I moved into market research, which was an interesting move, but it all kind of tied together because a lot of the clients I was working with were nonprofits and educational institutions. At the time, I was also working on my master's degree in communication studying media representation of women and black communities Nonprofit consulting piqued my interest in higher education because I was working with a lot of universities on how to best meet the needs of their constituents, which has always been a focus of my work.  I was doing projects for schools like Penn State and Lutheran Theological Seminary, thinking about how best to meet the needs of their students and their faculty.  As I was contemplating my next career move, I ended up finding a position at Robert Morris University in Pittsburgh. 
What role did you have at Robert Morris?
Robert Morris was starting a Women's Leadership and Mentoring Program, and I was the program manager. It began with me and the faculty director, starting this program from scratch. It was an important initiative for the University because, unlike most colleges, Robert Morris has fewer women students than male students. 
It is because Robert Morris was traditionally a business school, right?
Exactly. They created this great mentoring and leadership program to encourage more women applicants and to create supportive connections among women students, faculty, and alumni. I worked there for three years, and then Philly pulled me back.  In 2017, I saw the opening for an Associate Director position at Penn Women's Center and said, 'Oh, that's perfect,' because it marries my work supporting women and addressing issues around gender equity. The role at PWC positioned me to do the work on a broader scale, reaching areas of campus and the community that I did not have access to at Robert Morris. I love that PWC is a confidential resource; offering that kind of support to people in our community is important. 
As one of the oldest women's centers in the country, what does it mean, for both Penn and PWC, to celebrate the 50
th
 anniversary?
It's interesting because of this moment in time where women and people who identify as gender minorities have made leaps and bounds of progress. People are intentionally making more inclusive spaces. Women are excelling in areas where they were previously underrepresented. But, at the same time, we're still dealing with a lot of the issues that were present 50 years ago. For example, the reversal of Roe v. Wade, which we should have been acknowledging the 50th anniversary of this year, is something that I think a lot about. We thought we were further ahead with issues around reproductive justice. It feels like we are taken right back to 1973. It's been interesting to reflect on how far we've come but how much more work we must do. 
What is the history of the PWC? Who founded it? Why was it established back in 1973?
The Penn Women's Center was a result of student, faculty, and staff activism right here at Penn. There were a series of sexual assaults happening on campus. Women didn't feel safe where they were receiving their education, where they were teaching, where they were working. In the Spring of '73, there was a sit-in at the President's Office, and they had a list of demands. One of those demands was a Women's Center that can offer resources to students. One of the other demands was a Women's Studies Program, which is now the Gender, Sexuality, and Women's Studies program. Another demand that has had a lasting impact was the creation of the Department of Special Services, housed in the Division of Public Safety. Penn Women's Center started out as an administrator in an office, and we've grown. In 1996, we moved into the house here on Locust Walk. Since then, we've been able to add to expand the resources and provide   support to student groups.  
Can you reflect on how PWC's role on campus has changed over the past 50 years?
A big part of what we have done in the last few decades has centered on gender equity, and inclusion of all gender identities. We want to make sure that, regardless of who you are, you know that you come into the Women's Center and receive care and support. That's one thing that's been really important! Especially including and uplifting our trans and nonbinary communities. We also continually work to bring in communities of color, who historically have felt isolated from women's movements throughout history to make sure that everyone has a place here, and they can receive support. We're called the Women's Center, and that has always been central to the empowerment and upliftment of women. But we also want to make sure that Gender Equity is at the foundation of what we do, and that our approach is intersectional. 
What are some of the traditional programs and services that you provide at PWC?
One thing that has been consistent is that PWC is a confidential resource for students, staff, and faculty. Most often, that applies to people who experienced sexual violence and/or who experienced gender-based discrimination. But it also expands to a myriad of interpersonal situations: advising around conflicts with friends and classmates; dealing with health issues; trying to figure out where to go, what their next step is, what resources are on campus — we call it Options Counseling. We don't provide counseling in the traditional therapeutic sense. We're here to listen, validate an experience, answer questions, and then lay out the options that exist on- and off-campus to address whatever challenge or concern one may have. We've always worked with student groups and student organizations. We've worked with many groups throughout the years who need advising support, or just need mentorship or a home base on campus. We've been involved in a lot of the conversations around representation on Locust Walk and making sure that students of marginalized identities have a space to feel safe in the middle of campus. PWC is very privileged and fortunate to have this house, right in the middle of everything, but I know everyone doesn't have that. We offer space to communities and student groups to support their needs, advocate for issues they feel are important, and open our doors to anyone who needs a safe space on campus – whether it's to talk to a staff member in a confidential setting, attend a wellness program, or nap on the living room couch in between classes. 
What has been planned for PWC's 50
th
 anniversary celebration?
We're still in the early stages of planning. First, we are going into our archives and updating the records because during the 40th anniversary, we did an archive display and we now have another decade of programs and accomplishments to add. We're working with University Life's Strategic Planning & Operations team to digitize PWC's archival records. We've been working with our student team to get everything organized. The archive project will be important because it will highlight the timeline of Penn Women's Center's origins, beginning with photos and Daily Pennsylvanian articles.  It will also highlight everything that's happened and evolved over the past 50 years. For the 40th anniversary, we also started a video project called the Voices of Change. We'll be doing some more of that oral history work to make sure the voices of PWC's community are captured. We will kick off the celebrations with a program during Homecoming this fall. We will also co-sponsor a symposium organized by Gender, Sexuality, and Women's Studies in Spring '24 to celebrate both of our 50th anniversaries. 
That sounds so exciting. As you enter the Directorship, what are some of the challenges that PWC faces? What are some of the expectations that you have moving forward?
 A lot of universities are contemplating the same questions as they imagine the future of their women's centers. Some centers have changed their names, transitioned into centers for gender equity, and some have combined with their institution's LGBTQ+ center. As director, I want to determine what the next best step is for PWC at Penn. I want to listen to and engage with our community and figure out what that means. I look forward to doing a listening tour and focus groups, having conversations with our students, alumni, staff, and faculty. We want to make sure we're acknowledging the experience of people who have been coming to the center for many decades, but we also must ensure that we're meeting the current needs of our students and figuring out what that balance looks like for a Women's Center at this particular point in time. I'm excited to embark on this journey but it's a very difficult question and challenge to solve. That's what I am most excited for. On top of that, I am excited to continue building our collaborations with students and many campus partners like Penn Association for Gender Equity, Wellness, Penn Violence Prevention and our fellow Cultural Resource Centers.  
Penn Women's Center Supports Black Girls Literacy Project
Sophia Parker looked at the array of photos of Black women in front of her, thinking carefully. The 16-year-old from North Philly picked up one of a middle-aged woman dressed to impress, and another of a younger woman with her family. Parker then told the other girls participating in the Black Girl Literacies Project last fall why she was drawn to those images, she recalled.
"When I get older, I want to see myself being a classy woman with my pearls and just being happy with life, knowing that I succeeded in some type of way," she said. "One day, I would like to have a family and see [them] grow and be successful."
The other girls did the same that day, using the photos to talk about how they saw themselves and what they wanted out of life. It was a different kind of practice than Parker had ever heard of, but over the course of several weeks in the program, she came to understand herself better.
"It gave me a new outlook on ways to love myself," she said.
 The Black Girl Literacies Project is a free program for Black girls in Philadelphia, where participants explore different ways of loving themselves. Registration is open for the project's Spring cohort, which begins on Feb. 15 and meets every other week. The program is for Black Philadelphia girls ages 14 to 18, and meets at the Penn Women's Center, but also holds additional sessions at places such as the Colored Girls Museum in Germantown.
Barrett Rosser, the creator of BGLP, is a doctoral student at the University of Pennsylvania after previously working as a Philadelphia school teacher for over 10 years. She started the project in 2020 as part of her doctoral dissertation. "[Black girls] sit at the intersection of racial and gender [oppression]," she said, explaining why it is essential for Black girls and women to practice self-love.